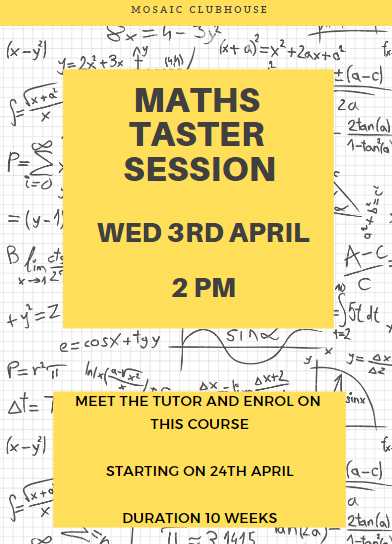 New courses at Mosaic Clubhouse starting in April
Introduction to Computer Skills
In partnership with Morley College 
Meet the tutor and enrol on Wednesday, 24th April, 11.00-13.00
Course dates: Wednesday 11.00-13.00 from 1 May – 10 July 2019
(Half-term 29 May)
You will be introduced to the key computer skills including email, web search and basic Microsoft programmes (Word and Excel). You will be able to gain a City and Guilds Functional ICT qualification as part of the course.
Confidence in Maths 
In partnership with WEA
Come and join us on Wednesday 3rd April at 2pm for a Maths Taster session where you can meet the tutor and enrol for the new course starting on Wednesday 24th April, 12.45 – 14.45  for 10 weeks. This course is all about helping you to feel more confident with basic math skills.
Both these courses are open to all Lambeth residents, you do not need to be a member at Mosaic Clubhouse. Both courses will be free if you are receiving benefits.