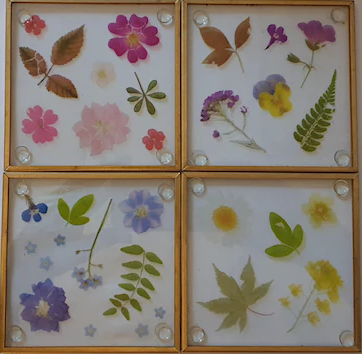 Join us in this practical, hands-on workshop where you will make your own flower press to take home. The session includes some simple DIY skills including sanding wood, drilling holes for butterfly screws and decorating the press using acrylic markers. All equipment and instructions will be provided and no prior experience is necessary.
We will demonstrate the art of flower pressing, including how to select, prepare and successfully press your flowers and leaves.
This workshop is part of our community orchard Apple Day 12-5pm, with activities including bulb planting, fruit tree pruning, apple pressing and free vegetarian food.
The event takes place in partnership with the Friends of Wyck Gardens and Loughborough Farm.
We have created three free places per session for those experiencing financial hardship, with the remaining tickets ranging between £10 and £15 based on income to cover the cost of the materials. If you would like to reserve one of the free places, please send a message to [email protected]
Notes for arrival: The orchard in Wyck Gardens is accessed from the corner of Barrington Road and Millbrook Road, London SW97JD. We are very close to Ebony Horse Riding Club. The event will take place outdoors, so please be prepared to be outside in sunshine or rain. In some instances we may have to postpone the workshop due to bad weather. Please note, we do not have toilet facilities on site.
If you need to cancel your ticket, please do let us know or cancel via Eventbrite to ensure someone else on the waiting list can take your place. We look forward to welcoming you.