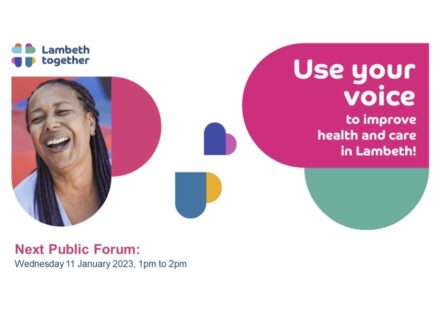 The next Lambeth Together Public Forum is online on Wednesday 11 January from 1-2pm. This is an open space for local communities to meet decision-makers, ask questions and raise important issues with the leaders of Lambeth's health and care system. There's no agenda and people do not need to sign up to participate.
See the Lambeth Together Board in action
The Forum is followed by the Board meeting which takes place in public from 2pm-4.30pm. Members of the public are welcome to attend to observe the Board discussions. Stay and hear about Lambeth Together's Year in Review, the Neighbourhood & Wellbeing Delivery Alliance's Progress Report, and a discussion on the Grassroots Programme that is delivering innovative community projects to improve health outcomes in Lambeth.
For more information, joining instructions and meeting papers, visit www.lambethtogether.net/get-involved.