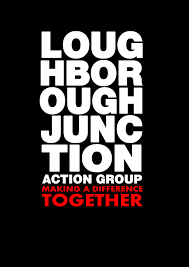 LJAG is recruiting a Treasurer!
Want to get involved in the work of the Loughborough Junction Action Group (LJAG) as our Treasurer? 
About us
Loughborough Junction Action Group (LJAG) is a social action group which came into existence in 2008, established and run by local people. We run projects which bring people together, reduce isolation and increase understanding and trust. They include a community café, community farm with an informal social prescribing support programme, adventure playground and arts and craft.  Our goal is to make Loughborough Junction a great place to live and work.
More about us!
Apart from the café, which generates its income and delivers social impact through funded programmes, we are largely grant dependent. We are working on a strategy to generate a higher level of self-funding from our projects and activities; streamlining and improving our processes and systems, including the newly implemented Xero system; and more.  We also have a new book-keeper who is working with us to transform our financial processes.
Why we need you!
There is more to be done, and we want a passionate Treasurer with a financial qualification or experience and a passion for helping a local community charity to join the board.  
The Treasurer will provide oversight of the charity's financial management to include:
contributing to plans to build funded and earned income to assure our viability and sustainability
helping fellow board members become more

 

aware of their financial obligations and take a lead in interpreting financial data to them
reporting the financial position at board meetings (balance sheet, cash flow, etc)
helping the project teams to produce an annual budget and propose its adoption
work with the book-keeper to ensure financial procedures and controls are in place
help us to appraise the financial viability of plans, proposals and feasibility studies
Work with the team to prepare the annual financial report, liaise with auditors/ independent examiner and ensure sign off from the board
act as a signatory on payments and

 

help us drive our work forward.
Time commitment
At least 2 days a month.  
Formal, evening board meetings take place once every 3 months, and we are looking to set up a finance and governance sub-committee which will also meet once a quarter.
Interested! Please see below for details of how to apply.
Want an informal chat?
For an informal chat about the role ring Anthea Masey on 07799 621 582 or via email to [email protected]
To apply
Send a CV and a very short covering letter to  [email protected]  There will be a short interview with panel which includes a couple of board members and project leads. We would like to have a new treasurer in place by the beginning of May 2023.