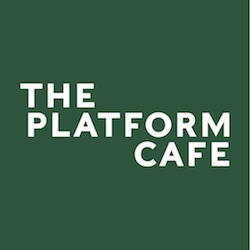 The Platform Cafe Chef role
About: The Platform Café is a community space in the heart of Loughborough Junction. Each day we prepare a homemade vegetarian and vegan menu using freshly picked seasonal produce grown at our sister project, the Loughborough Farm community garden, as well as surplus donations. We deliver workshops, volunteer programmes, training and work placement opportunities for local people experiencing barriers into employment. The cafe provides facilities for a large range of community groups and runs a takeaway free meals programme for people in need. We are a project of local social action charity, the Loughborough Junction Action Group. 
Paid role:  Full-time chef (job share available for part-time enquiries) on an initial 6-month contract. Potential for 9-12 months as this is maternity cover. 
Role description: A creative role where you will plan, design and deliver the menus for the week. The cafe menu is healthy, nutritious and balanced, reflecting the diverse food cultures of Loughborough Junction. Tasks include food preparation, cooking, serving, ordering, supporting volunteers and staff, finances and kitchen management. Menus include both our daily lunches (breakfast, sandwiches, salads, toasties, hot meals, homemade cakes) and our free meals programme. You will be working on site in our cafe in Loughborough Junction and responsible for maintaining a safe and hygienic work environment.
Skillset and experience: We are looking for an independent senior chef with several years' professional experience. We would love to work with someone with a shared passion for good food and community. Patience, warmth and creativity are key as the role includes supporting volunteers and staff during kitchen sessions. 
Rate: £12 – £15 per hour, based on experience.
When: 37.5 hours a week: Tuesday – Saturday (job share available)
What will you gain: A chance to be part of a community, in a welcoming, friendly and respectful environment. Experience working with a diverse group of people, flexible working, access to training and development. Free lunches/coffee, paid holiday, pension scheme.
Key contact: Charlotte O'Connor
Email: Please send a short cover letter and CV to [email protected]
Address: The Platform Cafe, 2 Ridgway Road, London, SW 7AH