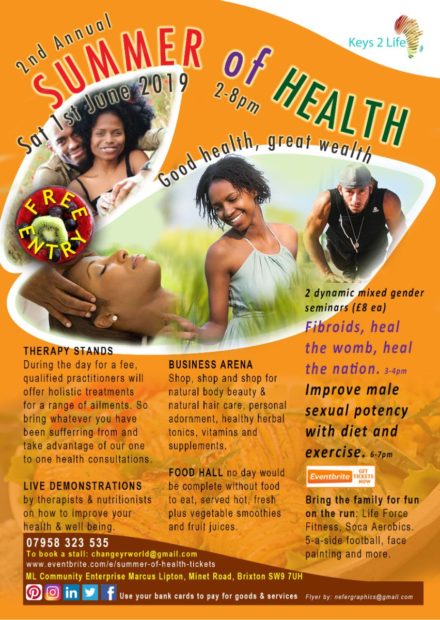 After the success of the inaugural Summer of Health event last year in Brixton South London, this year instalment is going to be bigger and better. Health is one of if not the most important issue of our time. The theme this year is great health great wealth cause we know that for a mind to thrive it must develop in a healthy body. So book a wholistic health consultation and these practitioners will help you with any health related issue that you may have just developed or have had for some time now. Learn how your body with the right care and attention can heal itself. After all your quality of life is the most precious thing you have. Learn how health supplementation, body diagnostics can help improve mental and physical performance.
Entry to the event is free on the day but you pay for the seminars and health therapies on offer. So purchase tickets for one or both of the seminars taking place, taught by very experienced practitioners in the field. Workshops are not gender specific so men could and should attend the fibroids workshop and women could and should attend the male workshop to understand each other's health issues and how to offer support to each other.
Of course no day is complete without food to eat, so come ready to enjoy a range of delicious and healthy nutritious cuisine (all vegan), from vegetable stews, tofu and salads, to the best vegan cakes and other delights around. There will also be a healthy fruit and vegetable juice bar.
Bring the family and the children out as well for they can take part in children's 5 a side, and adults ther will be on field workouts with an expert in fitness and training. Come out and have a wholistic and healthy day to remember.